SCHOTT gründet eigene Gesellschaft für Pharma-Geschäft und legt Grundstein für weiteres profitables Wachstum
Montag, 1. August 2022 , Mainz , Deutschland
SCHOTT Pharma AG & Co. KGaA optimally positioned to further pursue its sustainable growth strategy
Pharma drug containment and delivery solutions business successfully developed over many years
Capital market readiness envisaged
SCHOTT has legally established a stand-alone company for its pharma business to advance its growth strategy. As a pioneer in pharma drug containment and delivery solutions, the international technology group's pharma division has grown faster than the market in recent years. As part of the carve-out, the pharma business will operate under the new name SCHOTT Pharma AG & Co. KGaA as of today. "By creating a separate legal entity for our pharma business, we are generating new opportunities to expedite our profitable growth," says SCHOTT CEO Dr. Frank Heinricht. "At the same time, this step enables us to explore new financing options, including a possible IPO for SCHOTT Pharma," adds CFO Dr. Jens Schulte.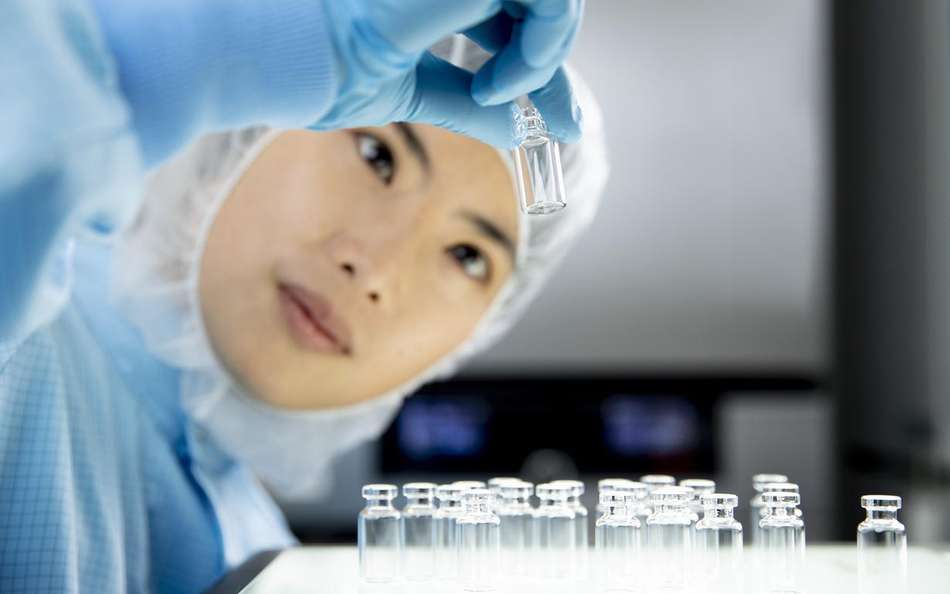 "Pharma will remain an integral part of SCHOTT in the future. With this move, we are creating more room for organic and inorganic growth and further potential investments towards becoming climate neutral by 2030," Heinricht continues.
Pharma drug containment and delivery solutions, just as drug manufacturing, is subject to the strictest regulations. Working in a dynamic market with high barriers to entry, SCHOTT Pharma is optimally positioned to develop new opportunities. The portfolio ranges from prefillable glass and polymer syringes, to cartridges, vials, and ampoules. The company produces around 13 billion products yearly to serve modern drug categories such as mRNA-based drugs and biopharmaceuticals. Approximately every minute, over 25,000 people around the world receive an injection with medication filled in a SCHOTT Pharma product.
"In recent years, our sales in the pharma division have increased continuously, with the latest figure growing double-digit to EUR 650 million for the 2021 fiscal year – although the share of sales related to COVID-19 was only about 3%," says Schulte. The company is investing a three-digit million Euro figure to meet worldwide demand. A new production facility for prefillable polymer syringes has started operations in Germany, and a new plant for glass syringes is currently under construction in Hungary. The company broke ground on new production buildings in China and is planning to triple its capacity for high-quality sterile vials in the USA. As of today, the SCHOTT Group's pharma division is operating as a stand-alone company, however, the carve-out is expected be completed by the end of year.
SCHOTT Pharma at a glance
Special container solutions are needed to ensure vital medications reach people safely - which is exactly what SCHOTT has been specializing in for over 100 years. Every day, a team of around 4,700 people from over 65 nations work at SCHOTT Pharma to contribute to global healthcare. The company is represented in all main pharmaceutical hubs with 17 manufacturing sites in Europe, North and South America, and Asia. Currently, SCHOTT Pharma has over 1,700 customers including the top 30 leading pharma manufacturers. With over 900 patents and technologies developed in-house, a state-of-the-art R&D center in Switzerland, and around 130 employees in R&D, the company is focused on developing innovations for the future. As a company of the Carl Zeiss Foundation, SCHOTT Group and its subsidiaries are committed to sustainable development for society and the environment. In light of this spirit, SCHOTT Pharma has committed to becoming climate-neutral by 2030.
Pioneering – responsibly – together
These attributes characterize SCHOTT as a manufacturer of high-tech materials based on specialty glass. Founder Otto Schott is considered its inventor and became the pioneer of an entire industry.Always opening up new markets and applications with a pioneering spirit and passion – this is what has driven the #glasslovers at SCHOTT for more than 130 years. Represented in 34 countries, the company is a highly skilled partner for high-tech industries: Healthcare, Home Appliances & Living, Consumer Electronics, Semiconductors & Datacom, Optics, Industry & Energy, Automotive, Astronomy & Aerospace. In the fiscal year 2021, its 17,300 employees generated sales of 2.5 billion euros. SCHOTT AG is owned by the Carl Zeiss Foundation, one of the oldest foundations in Germany. It uses the Group's dividends to promote science. As a foundation company, SCHOTT has anchored responsibility for employees, society and the environment deeply in its DNA. Ziel ist es, bis 2030 ein klimaneutrales Unternehmen zu werden.