Increase the efficiency and flexibility of your fill-and-finish operations with adaptiQ®
Made from the gold standard borosilicate glass, adaptiQ® vials come in a pre-washed and pre-sterilized ready-to-use (RTU) configuration. Offering a broad variety of vial sizes and vial types – such as standard vials and special vials – adaptiQ® is available in three distinct nest formats to ideally suit your filling requirements. Optimize your fill-and-finish processes and minimize costly rejects.
Flexibility and efficiency in production can be challenging
Whatever challenge you face in your processing, adaptiQ® will be the right solution for you
Developed in cooperation with innovative and highly regarded machine suppliers, adaptiQ® vials can be processed on a wide range of existing and new fill-and-finish lines. As a result, you can choose the ideal combination of vial, secondary packaging and filling line based on your products and processes for increased flexibility and efficiency.
Designed for full compliance with all relevant ISO standards

Pre-washed and pre-sterilized vials

Pre-tested with market-leading closure systems

No glass-to-glass contact

Full SCHOTT vial portfolio including SCHOTT EVERIC® pure and SCHOTT Type I plus® available in adaptiQ®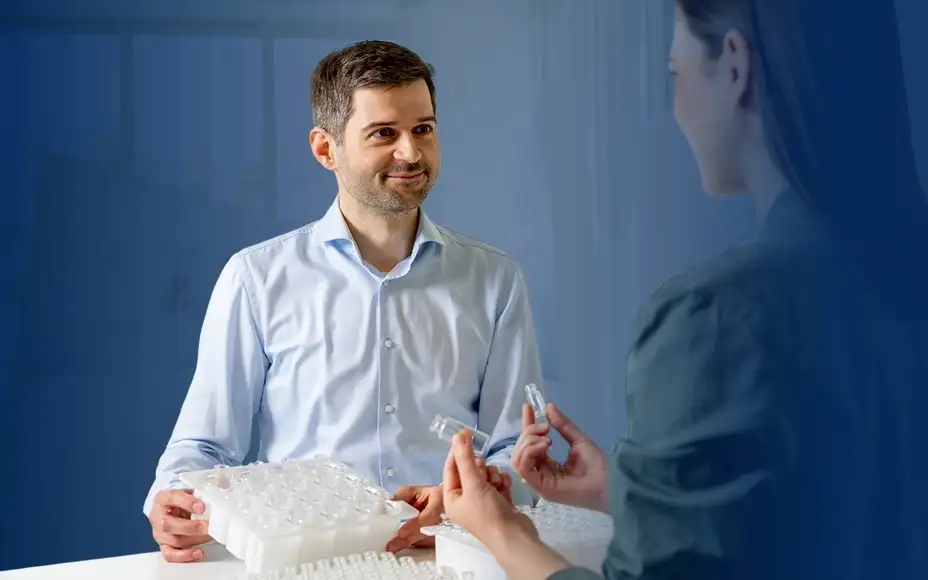 In stock and ready to ship
adaptiQ® in stock and ready to ship. Order now!
Looking for small quantities that can be delivered with short delivery times, but don't want to do without high quality standards and professional support? Available in a tray, cup nest or clip nest configuration, adaptiQ® is ready to suit your needs. Up to 18 tubs in 2R, 6R, 10R and 20R as well as 50R in cup nest can be ordered directly via the SCHOTT Pharma Online Shop (EU, Switzerland, UK, US, Canada). Please contact us directly for further vial sizes or larger quantities.
adaptiQ® Fast Track Kits
The full set for your small-batch filling needs. Consisting of ready-to-use vials and a pre-tested stopper and cap solution, adaptiQ® Fast Track Kits provide you with all components needed to safely store your drug products.
They are ideal for pharmaceutical labs, universities and startups wanting to increase time to market. Benefit from outstanding reliability, convenience, flexibility and performance.