Improve your hospital environment with prefillable COC syringes
SCHOTT TOPPAC® infuse syringes answer the health care industry's demand for prefillable polymer syringes that are ideal for infusion therapy. Prefillable syringes ensure that patients always get the right concentration of the right drug at the right dose.
By eliminating the need for a manual multi-step preparation process, these syringes reduce the risk of human error and improve patient safety, while an easy-connect Luer Lock Adapter (LLA) makes them compatible with a wide range of syringe devices. Made from an advanced COC material, the syringes also offer high stability and excellent barrier properties, which results in improved drug stability and longer shelf life.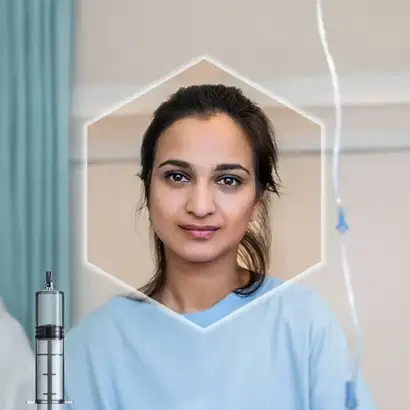 Optimum safety and efficiency for hospital settings
SCHOTT TOPPAC® infuse can be used to optimize a variety of medical applications, reducing contamination and medical errors in hospital pharmacies and 503B compounding pharmacies, as well as improving the efficiency of IV lines and pump systems. SCHOTT TOPPAC® infuse also enhances infusion therapy in a number of hospital settings, including the administration of acute care drugs in operating theaters and ICUs.
By offering a ready-to-use drug delivery system that results in a longer shelf life and a more flexible automated filling process, these unique syringes also support the fight against drug shortages.
CONTACT US
Save time, improve shelf life, and reduce medical errors
SCHOTT TOPPAC® infuse prefillable syringes are designed to reduce the time required for drug administration and preparation, resulting in a significant decrease in medical errors and infections. While the COC barrel offers longer drug shelf life through increased stability, the enhanced Luer Lock Adaptor (LLA) has improved IV connectivity, as well as strong compatibility with most common syringe pumps.
CONTACT US
High material standards for a longer drug shelf life
COC material exhibits excellent barrier properties for water vapor and oxygen permeability, leading to longer drug shelf life.

COC material manufactured in accordance with EP, JP, and USP class VI (DMF 12132) standards.

Inert COC material results in no ion or metal release.

Low protein adsorption, no pH shift, and a low silicone particle burden.

Available in a range of volumes, including 5, 10, 20, and 50 ml.

Supported by extractable and biocompatibility studies for the entire SCHOTT TOPPAC® syringe system.
CONTACT US
Available pre-sterilized in a ready-to-use format
SCHOTT TOPPAC® infuse syringes are manufactured in a cleanroom environment using a state-of-the-art, fully automated production process – from injection molding to the final packaging in nest and tub. This complete drug delivery solution offers an efficient fill-and-finish process, as well as an easy and convenient injection procedure for doctors and patients.