Pharmaceutical glass vial with optimized geometrical strength and low-friction outer surface
During conventional bulk fill-and-finish processing, vials are constantly subjected to glass-to-glass contact and loads, resulting in increased cosmetic defects, a higher risk of breakage, and the potential for sticking and climbing during depyrogenation. The consequences of this continuous contact can be reduced line speed, higher final reject rates, downtimes, interruptions, and increased costs.
EVERIC® strong & smooth vials combine optimized geometrical strength with a surface that's protected by a low-friction outer coating. Manufactured using an improved forming process with specialized inspection, EVERIC® strong & smooth vials are coated using a dip-coating process to produce the perfect match for improved line performance.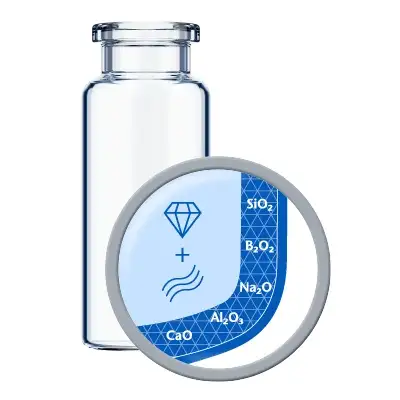 Decrease risk while increasing line performance
EVERIC® strong & smooth vials can optimize your bulk fill-and-finish process by reducing the risk of breakage and reducing the final reject rate due to cosmetic defects. In addition, they can increase line speed thanks to smoother transport, reduction of blocking vials, and no sticking or climbing.
CONTACT US
Reduced rejects and increased speed
Using geometrical optimization, EVERIC® strong delivers an improved strength that's within existing ISO tolerances, without the need to change the glass composition or apply additional chemical treatments.
EVERIC® smooth's low-friction outer coating leads to an improved gliding behavior of the vials during bulk fill-and-finish

Sticking and climbing of the vials is prevented, interruptions are reduced, and the line speed can be increased

The outer coating protects the glass surface, resulting in a significant decrease of final rejects

When combined, EVERIC® strong & smooth vials deliver their full potential to increase efficiency on bulk fill-and-finish lines.
CONTACT US
Efficient Processing with EVERIC™ strong & smooth
EVERIC® strong & smooth with FIOLAX® OS for optimized strength
Processed using FIOLAX® OS (Optimized Strength) glass container material.

We offer a wide format range from 2R to 50R.

EVERIC® strong & smooth vials are available in bulk tray packaging.

EVERIC® strong & smooth vials have a TopLine quality level, with a dedicated, statistical in-production release test.
DOWNLOAD DATASHEET
Make your EVERIC® strong & smooth ready-to-use
EVERIC® strong & smooth vials are available in the adaptiQ® format, a pre-washed and pre-sterilized ready-to-use (RTU) configuration in highly standardized secondary packaging.
Small batches of patient-facing medications and high-value pharmaceuticals often present challenges for fill-and-finish operations. Not only do they require higher quality containers, but they also require more flexibility, with frequent switching between different medications to avoid costly waste.
adaptiQ® vials can be processed on a variety of new and existing fill-and-finish lines, keeping vials nested throughout the process, including freeze-drying.