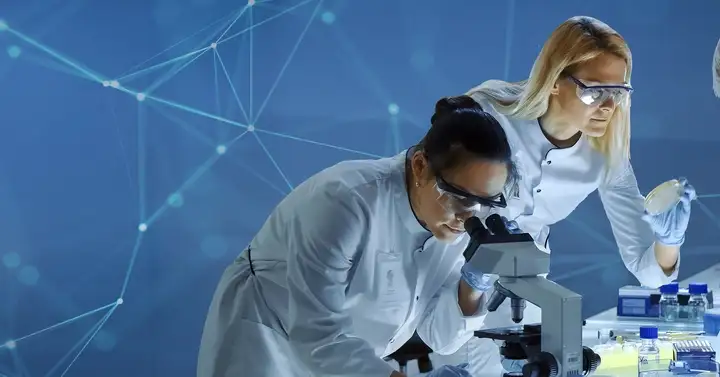 Delamination studies
Understand the risks of drug-container interaction and choose your glass containment solution with confidence
CONTACT US
The challenge: drug-container compatibility
Selecting a containment solution that is compatible with a specific drug product throughout its shelf life is a major challenge. The continuous contact between a drug and the interior of the container can attack the surface structure. Glass delamination occurs when thin, flexible fragments – lamellae or flakes – become detached from the surface of the containment solution. When selecting a containment solution, it is important to identify the potential for delamination issues early on and provide the relevant documentation for regulatory submission.
SCHOTT Pharma Services can support you in the selection of a glass containment solution by tailored delamination screening studies that assess surface durability and attack mechanisms specific to your drug-container combination and storage parameters.
Glass delamination screening by SCHOTT Pharma
Our delamination screening studies follow the framework of USP <1660> and Ph.Eur 3.2.1. The design of each individual study typically includes variations in the storage conditions and a customized set of analytical techniques. Variations in storage conditions are used to assess potential worst-case situations in future use, as well as the identification of potential phenomena through accelerated aging.
Analysis typically begins with visual and optical inspection to understand the occurrence and shape of dissolved glass elements. Further imaging and surface analytical techniques are applied to investigate the morphology of the particle or the container surface that has been attacked.
In a final step, our experts provide guidance, helping you to interpret the results by categorizing the criticality of observations and pointing out early indicators of delamination.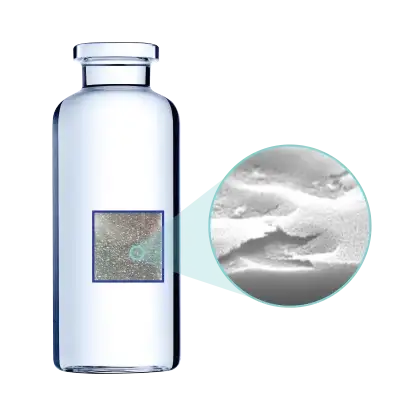 Proven methods for glass delamination analysis
Glass delamination screening begins with visual inspection by eye and camera to distinguish flake-like particles. Combining the USP <790> procedure with in-house methods enables our experts to distinguish between particle types.
SEM cross-section analysis of the interior surface is used to determine the extent of attack on the glass surface and allows the different levels of glass corrosion to be classified. Typical features are roughening, formation of reaction zones, and delaminated areas.
ICP analysis of leached glass elements confirms the amount and ratio of glass attack to determine whether the mechanism is homogenous or non-homogenous dissolution.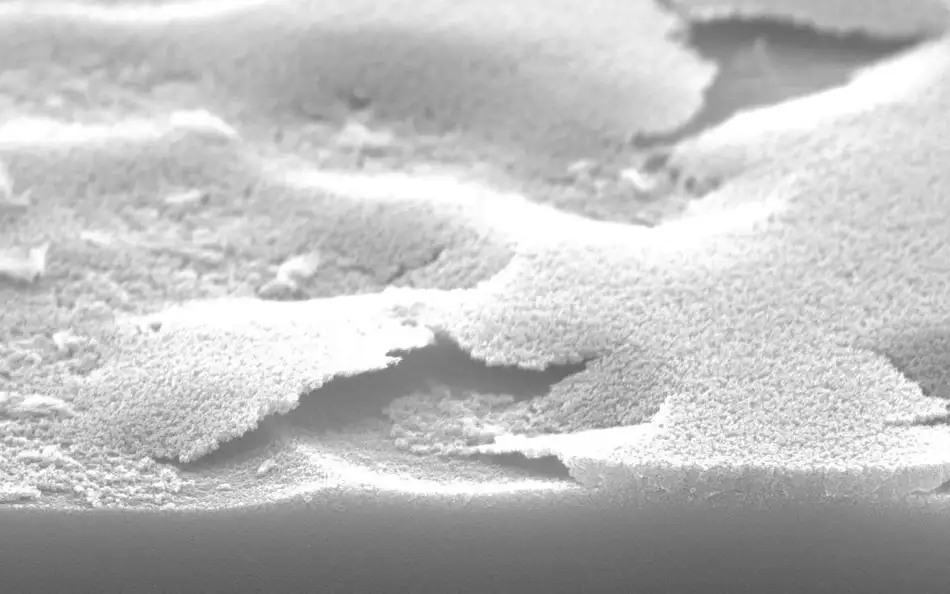 How we help you reduce the risk of delamination
If the evidence indicates that container processing affects the potential for glass delamination, SCHOTT Pharma can help. We will run a series of tests in a controlled laboratory environment using permutations of washing, depyrogenation, filling, and terminal autoclavation parameters.
The resulting data enables you to explore the interrelation between delamination tendency and process parameters, and assess whether there is a process window that reduces delamination risk.
CONTACT US
Delamination studies: How to proceed
SCHOTT Pharma Services's team of specialists offers support and advice about your pharmaceutical packaging challenge. We provide guidance and a complete process that will take you from initial request to effective solution.