Increased drug stability and delamination control for low fill volumes
The rising number of biologics is putting pressure on drug containment manufacturers to adapt to the needs of these sensitive drugs.
Standard vials often encounter increased leachable levels for low fill volumes, as well as an increased risk of pH shift and delamination. This is caused by a change in the inner surface of the near-bottom region of the vial in the conventional vial converting process.
The answer to these challenges is EVERIC® pure. Thanks to patented manufacturing technology, these vials provide a homogenous inner surface. The improved leaching behavior make this vial indispensable for drug stability needs.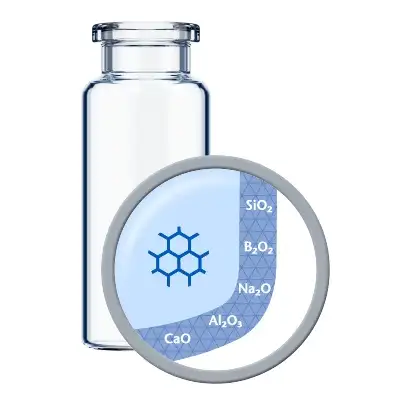 EVERIC® pure for aseptic filling
EVERIC® pure vials are ideal for sensitive and low-fill-volume drugs due to their proven stability.
EVERIC® pure vials also offer high stability for terminally sterilized formulations such as diluents, which require dedicated storage.
In addition, EVERIC® pure vials are ideally suited to water for injection (WFI) applications due to their low leachable level and ability to avoid pH shift.
CONTACT US
The gold standard for drug stability
The wide range of advantages of EVERIC® pure vials reflects our dedicated manufacturing processes.
A unique low leachable level is particularly suitable for low-fill drugs.

SCHOTT Pharma's patented converting process ensures that delamination is under full control, resulting in no compromise of drug integrity.

EVERIC® pure vials offer lower pH shift and conductivity, ensuring product stability.

Unchanged glass composition means no re-registration is necessary.
BUY ONLINE NOW
EVERIC® pure vials – a strong portfolio for your low-fill-drugs
The exceptional FIOLAX® CHR glass tubing is used for all EVERIC® pure vials.

We offer a wide format range (2-50R) to provide the perfect solution for all types of drug.

EVERIC® pure vials are available in bulk tray packaging or adaptiQ® ready-to-use standardized packaging.

EVERIC® pure vials have a TopLine quality level, with a dedicated, statistical in-production release test ("Quicktest") performed to control a low leachable level in the heel zone.
DOWNLOAD DATA SHEET
Ready-to-use EVERIC® pure
Using the highly standardized secondary packaging adaptiQ®, EVERIC® pure vials are available in a pre-washed and pre-sterilized ready-to-use (RTU) configuration.
Small batches of personalized medications and high-value pharmaceuticals often present challenges for fill-and-finish operations. Not only do they require higher quality containers, but they also require more flexibility, with frequent switching between different medications to avoid costly waste.
adaptiQ® vials can be processed on a variety of new and existing fill-and-finish lines, keeping vials nested throughout the process, including freeze-drying.