The all-in-one container and injection device for vaccines
SCHOTT Pharma is one of the leading companies developing high quality prefillable glass syringes (PFS). A common FIOLAX® glass base combined with a deep understanding of syringe systems helps smooth the transition from vials to syringes.
The ready-to-use syriQ® glass PFS ensure safety and efficiency by eliminating almost all drug injection preparation steps. Extensive options, including the proven syriQ® Rigid Cap (SRC) closure system, allow syriQ® to be perfectly tailored to individual vaccine requirements.
syriQ® glass PFS are supported by continuous development programs to meet the needs of emerging drug technology platforms and customer-specific projects – from traditional inactivated vaccines to breakthrough mRNA solutions.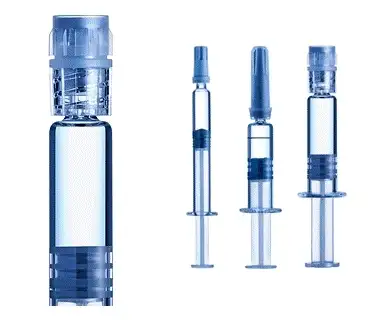 Optimum safety and convenience for patients with syriQ®
syriQ® glass PFS deliver safety and convenience to patients and healthcare providers.
They are ideal for storing and injecting a broad range of vaccines, including:
inactivated vaccines, such as those used against influenza

live-attenuated vaccines, such as the MMR combined vaccine

subunit, recombinant, polysaccharide, and conjugate vaccines, such as the HPV vaccine

breakthrough mRNA vaccines
syriQ® prefillable glass syringes can also be used in diluent applications.
CONTACT US
Stable storage and easy processing
Offering stable storage and enhanced vaccine shelf life, syriQ® glass PFS are made of FIOLAX® Borosilicate Glass and offer a range of benefits.
Tight dimensional tolerances to ensure accurate filling and functionality.

Proven container closure integrity and reliable functionality of standard and emerging drug models down to -50 °C.

Delivered in standard nests as part of the

SCHOTT

iQ® platform for easy processing on standard filling lines.

Comprehensive portfolio, including pre-tested closure and plunger components, to support customization for drug and fill-and-finish requirements.
CONTACT US
syriQ® – your complete glass syringe system
High quality Type I FIOLAX®

B

orosilicate

G

lass container material.

Formats range from 0.5-3 ml with a variety of closure systems such as staked needle, Luer Cone, and Luer Lock with syriQ® Rigid Cap (SRC) or OVS® *.

Available as a complete system with plungers and plunger rods based on your requirements.

Packaged in a nest 100.




* OVS® is a registered trademark of Vetter-Pharma International GmbH, Germany
CONTACT US
Available pre-sterilized in a ready-to-use format
syriQ® prefillable glass syringes from SCHOTT Pharma are manufactured using a state-of-the-art, fully automated production process. The camera-controlled inspection delivers products with consistently high levels of functionality and low cosmetic defects for an efficient fill-and-finish process.