Identifying the origin of particle formation using precise particle analysis
The presence of particles in drugs for injection constitutes a major risk to patient health. It also indicates that uncontrolled events have occurred. Once particles have been observed, detailed investigation is required. Firstly, to understand the underlying root cause, and secondly, to enable the far-reaching decisions which will ensure product safety in the future. The focus on patient safety prevents the occurrence of systematic risks in product development, as well as uncontrolled process or product variations during the commercial phase.
SCHOTT Pharma Services conducts investigative studies for customers that analyze the shape, size, morphology, and material composition of obtained particles. Our experts have extensive knowledge of primary packaging materials and related phenomena, and understand the connection between analytical results and the effects that may result from these particles.
Gain detailed insights into root causes using SCHOTT Pharma's scientific particle analysis
The investigation studies of particle analysis begin with microimaging using scanning electron microscopy (SEM) to understand the dimensions, macrostructure (such as fibre and spherical shape), and microstructure of the particle.
In a second step, the chemical composition is analyzed using energy dispersive X-ray spectroscopy (EDS) for inorganic elements and Raman spectroscopy for supplementary organic materials. In most cases, combining these observations provides a good description of the observed particles and allows experts to narrow down the number of potential root causes. Additional analytical methods can be applied to test and exclude hypotheses using the wide range of equipment available at the SCHOTT Research Center as needed.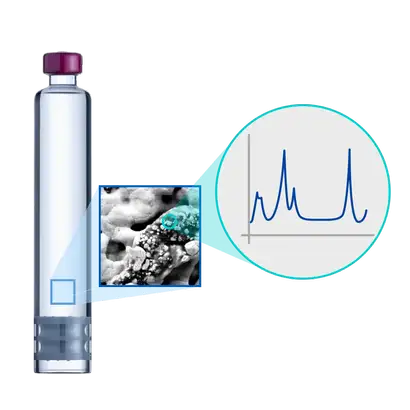 Confirm your expected root cause with SCHOTT Pharma's particle analysis
To create a final confirmation or explain a root-cause mechanism, SCHOTT Pharma Services can mimic any potential variation in process parameters (such as washing or depyrogenation conditions) or drug composition. This enables us to reproduce and verify the failure mechanism under controlled laboratory conditions, and study the relationships between associated parameters.
CONTACT US
Particle analysis: How to proceed
SCHOTT Pharma Services' team of specialists is available to offer support and advice about particle analysis and your pharmaceutical packaging challenge. We offer a complete process that will take you from initial request to effective solution.