Different needs need different care
People deserve the best treatment possible. SCHOTT TOPPAC® syringes are available in a variety of formats to deliver that treatment for a host of different needs. Our combination of broad, cross-applicational expertise, technical support, and highly advanced Cyclic Olefin Copolymer (COC) material results in a solution that's right for you and those who matter the most: your patients.
The SCHOTT TOPPAC® portfolio of polymer containers offers customers a highly versatile primary packaging solution that's suitable for the long-term storage and administering of drugs in healthcare settings and at home. Manufactured using an advanced COC, the containers are break-resistant, lightweight, and transparent, and come with full regulatory support and decades of expertise.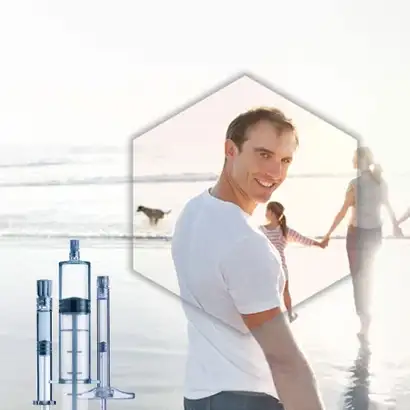 A one-stop syringe shop for therapeutic treatments
SCHOTT TOPPAC® syringes are used in a broad range of therapeutic areas, including hospital and home care, as well as clinical settings. Used for the storage and delivery of a wide variety of medications, including sensitive biologics, vaccines, and cosmetic drugs, SCHOTT TOPPAC® syringes are
highly customizable
and easy to integrate into existing filling lines. Manufactured to all relevant standards, we provide a one-stop-shop for syringes and their components.
CONTACT US
A reliable drug delivery system developed just for you
Whether it's a polymer syringe or customized polymer container, the SCHOTT Pharma team of experts will work together to develop the solution that best fits your needs. Not only do our containers offer design freedom, but also relief from pain points when it comes to end-user application.
Decades of experience in polymer containers and a wide global footprint in a variety of applications enable us to deliver an ideal product, with regulatory support throughout development. From high drug stability and break resistance to reduced silicone droplets and drug-silicone interaction, SCHOTT TOPPAC® offers exceptional quality and reliability for doctors and patients.
CONTACT US
Learn more about SCHOTT TOPPAC® – the Polymer Design Platform
Properties and formats of SCHOTT TOPPAC® syringes
Excellent drug stability and barrier properties for water vapor and oxygen permeability.

COC material manufactured in accordance with EP, JP, and USP class VI (DMF 12132) standards.

Available in a range of volumes from 1-50 ml. 

Features and design options include cut flange, cross-linked silicone cocktail, standard tip cap and rigid cap, as well as a choice of plungers, plunger rods and backstops.

Integrated Luer Lock results in minimization of leakage, Luer Lock rotation, needle ejection, and disconnection of Luer Lock Adapter during injection.
CONTACT US
Available pre-sterilized in a ready-to-use format
SCHOTT TOPPAC® syringes are manufactured in a cleanroom environment using a state-of-the-art, fully automated production process – from injection molding to final packaging. A low quantity of free silicone enables gliding forces to remain constant over time, while injection molding of the syringe barrel results in small tolerances and consistent quality. Available data is supported by extractable and biocompatibility studies for the entire SCHOTT TOPPAC® syringe system.