Cartridges Double Chamber (DC)
Pharmaceutical
glass cartridges for safe and convenient handling of lyophilized drugs
Request quote
Cartridges Double Chamber: Safety and convenience for sensitive drug products
SCHOTT Pharma's Cartridges Double Chamber can contain two drug components in two consecutive chambers separated by a plunger. A bypass within the glass allows contents such as a freeze-dried formulation and a diluent to mix just before the drug is injected.
The system's high dosage accuracy makes it safe and convenient for the patient, especially when used with highly concentrated drugs. The double-chamber cartridges not only facilitate the reconstitution and administration of lyophilized drugs for medical staff, but they even allow self-administration by the patient.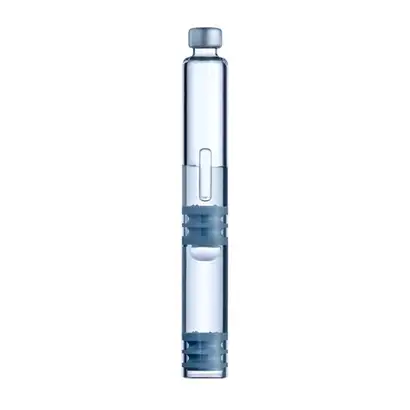 For easy storage and secure protection
Three containers are typically required for the administration of a lyophilized drug: a vial containing the lyophilizate, a diluent vial, and a syringe for reconstitution and drug administration.
SCHOTT Pharma's Cartridges Double Chamber combine all these into a single drug delivery system that enables the contents to be stored, protected, and reconstituted easily before being administered in a safe and convenient way. Our double-chamber cartridges are also compatible with the most commonly used pen systems.
CONTACT US
Cartridges Double Chamber for simple handling
With an increasing number of sensitive biotech molecules dominating the pharma pipelines, the shelf-life stability of drugs has surfaced as one of the key challenges.
With two chambers separated by a plunger and a bypass that allows two substances to be mixed or reconstituted before administration, Cartridges Double Chamber support the shelf-life stability of sensitive drug formulations.
Increased handling efficiency and dosing accuracy when compared to the use of separate containers for lyophilizate and diluent.
CONTACT US
Top quality cartridges with a range of options
Container material: FIOLAX® clear Type I Borosilicate Glass
Format: customized upon request
Quality level: StandardLine
Packaging options: non-sterile in tray


CONTACT US
Cartridges Double Chamber are available as non-sterile containers
Cartridges Double Chamber come in standardized secondary packaging and are available as a non-sterile container. The cartridges need to be washed and sterilized prior to filling.