Minimized risk of drug-container interaction for biologics
Complex biotech drugs face a variety of challenges when it comes to primary packaging. Any interaction between the drug and the prefilled syringe can impact stability and treatment efficiency. Ions may leach out of the glass, silicone may interact with the drug, and tungsten residues may cause protein degradation or aggregation.
syriQ BioPure® prefillable glass syringes (PFS) are manufactured using specially developed technology to ensure ultra-low residuals levels, minimizing the risk of drug-container interactions over the full product shelf life. Designed for optimum functionality and seamless device integration with autoinjectors and safety systems, syriQ BioPure® syringes offer safe and easy drug administration for the patient.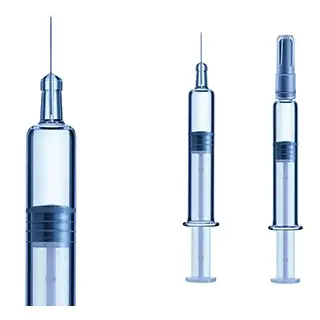 The ideal syringe for sensitive biologics
syriQ BioPure
®
glass syringes from SCHOTT
Pharma
are the ideal solution for storing and administering highly sensitive drugs such as complex biologics. Low, uniform silicone levels and tight dimensional specifications support consistent gliding forces and injection times, making syriQ BioPure
®
syringes highly suitable for autoinjector and homecare use.
CONTACT US
Superior functionality and drug stability
syriQ BioPure® glass syringes for biologics are made of high-quality FIOLAX® Borosilicate Glass and offer superior functionality, safe and easy drug administration, and high levels of patient comfort. 
Low levels of particles and ultra-low tungsten and glue residuals.

Consistent gliding and injection force.

Tight dimensional specifications and geometrical tolerances.

Proven compatibility with safety devices and autoinjectors.

360° support from a single source, including technical consulting, quality and compliance statements, and analytical services.
CONTACT US
Discover the many benefits of syriQ BioPure® prefillable glass syringes
syriQ BioPure® for storing and injecting sensitive biologics
Made using high quality Type

I

FIOLAX®

B

orosilicate

G

lass.

Format options include 2.25 ml staked needle and 1ml lg staked needle, with more than 50 verified syringe configurations available.

Packaged in nest 100 (1ml lg + 2.25ml) or nest 160 (1ml lg).
CONTACT US
Available pre-sterilized in a ready-to-use format
syriQ BioPure® prefillable glass syringes from SCHOTT Pharma are manufactured using a state-of-the-art, fully automated production process. The camera-controlled inspection delivers products with consistently high levels of functionality and low cosmetic defects for an efficient fill-and-finish process.