The highly standardized secondary packaging
With adaptiQ®, SCHOTT Pharma provides gold standard borosilicate vials in a pre-washed and pre-sterilized ready-to-use (RTU) configuration in highly standardized secondary packaging. The RTU vials maximize the flexibility of the filling line while increasing patient safety.

adaptiQ® enables an easy switch between different vial formats and types, which is especially relevant for sequential small batch production. Since all packaging options prevent glass-to-glass contact, you can rely on a high quality vial that minimizes costly rejects and increases efficiency.

adaptiQ® vials can be processed on a wide range of new and existing fill-and-finish lines, from small scale flex-fillers with fully nested processing (including nested lyophilization) to large-scale filling lines.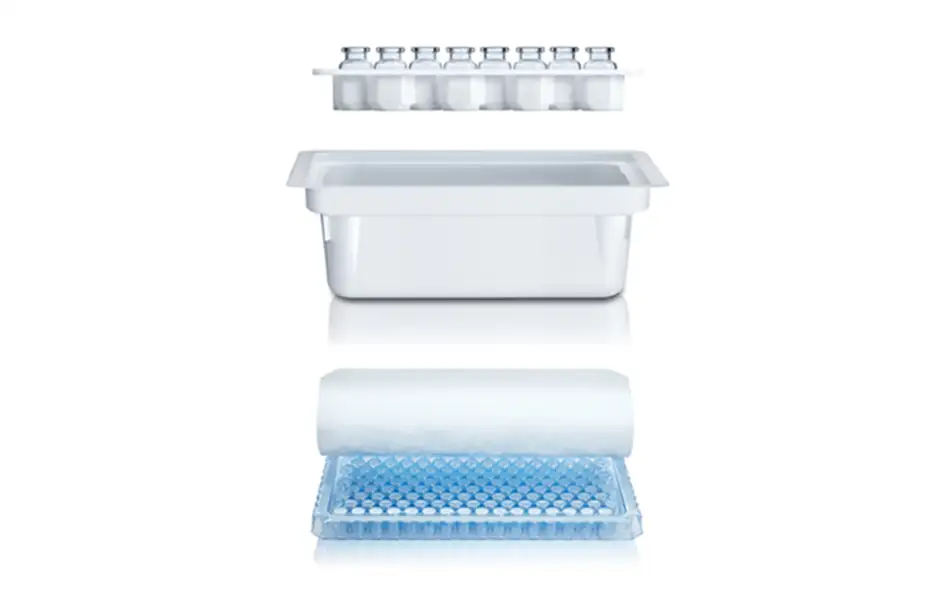 Maximized flexibility with adaptiQ®
adaptiQ® enables safe and easy access to high quality vials for your commercial filling operation, with standardized state-of-the-art washing and sterilization processes already integrated in the product.
For clinical fills, adaptiQ® maximizes flexibility between different container formats and, since different container types and formats can be filled on the same line, helps to reduce total cost of ownership.
Contact us
adaptiQ® for high product standardization
adaptiQ® is compatible with all SCHOTT bulk vials, including SCHOTT EVERIC® and coated vials.

Developed in collaboration with leading machine suppliers, adaptiQ® by SCHOTT Pharma can be processed on a variety of new and existing filling lines. This allows you to choose the ideal combination of vial, secondary packaging, and filling line for your products and processes.

The standardization of adaptiQ® is based on the decade-proven ISO 11040-7, alongside other relevant industry standards such as ISO 11040-7 and ISO 21882. This significantly reduces changeover times.

Ultimately, SCHOTT Pharma's superior packaging materials improve the processability and quality of your product.
BUY ONLINE NOW
adaptiQ® – The global ready-to-use standard
adaptiQ® – For a safe transport, storage, and filling process
Container material: EVERIC® pure, EVERIC® care, SCHOTT Type I plus®, SCHOTT TopLyo®, FIOLAX® clear and FIOLAX® amber
Format: Tray (2R-50R), cup nest (2R-50R) and clip nest (2R-30R)
Packaging options: Tray for bulk-like fill-and-finish, cup nest for nested processing, independent of container format and clip nest for fully nested processing, including lyophilization
Quality level: TopLine quality