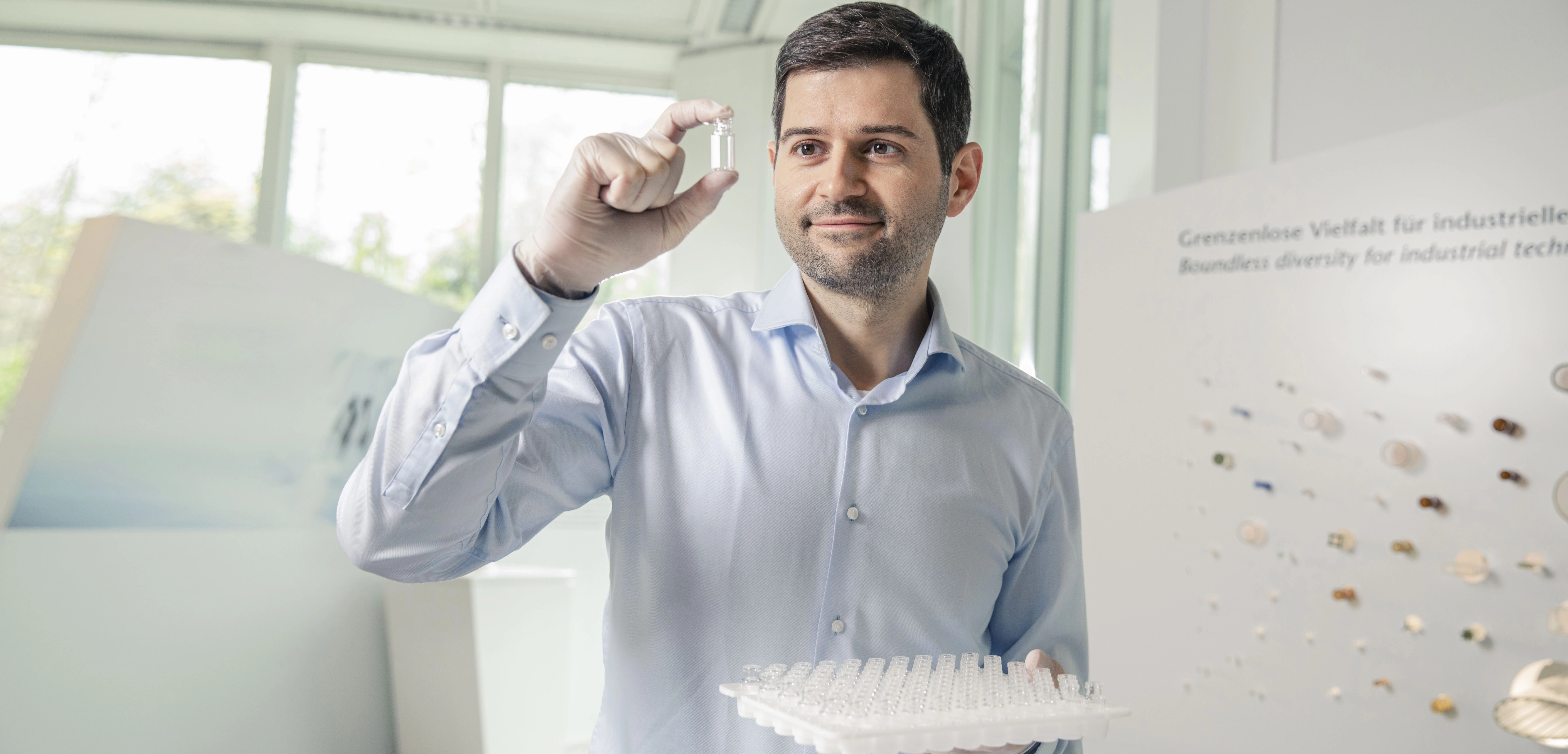 Published on Tuesday, June 20, 2023
4 min
How sterile glass vials can reduce the Total Cost of Ownership
Pharmaceutical companies are increasingly outsourcing value chain steps to simplify their manufacturing processes and streamline the manufacturing footprint. By switching from traditional bulk drug containment solutions to sterile drug containment and delivery solutions, such as ready-to-use vials, the total cost of ownership (TCO) can be significantly reduced. Sterile, ready-to-use (RTU) glass vials can offer savings across the entire product lifecycle while improving patient safety through superior quality.
Total Cost of Ownership in traditional bulk fill-and-finish operations
To determine if introducing innovative manufacturing practices like sterile drug containment and delivery solutions with its fill-and-finish concepts is economically viable, conducting a Total Cost of Ownership (TCO) analysis that considers both capital and operational expenses is crucial. This analysis provides valuable insights into the long-term expenses of different solutions, including sterile, RTU glass vials and traditional containers.

The TCO analysis should encompass a range of cost factors, including qualification, validation, and maintenance expenses, as well as costs associated with washing and WFI (water for injection) usage, heat tunnel, glass breakage and cosmetic rejects, format parts and changeover costs, clean room space, sterilization, and power usage.

The value stream for bulk pharmaceutical containers involves producing and transporting glass containers to the pharmaceutical manufacturing facility. These containers are then washed, dried, and depyrogenated to provide a safe and sterile container for the fill-and-finish process. The traditional bulk filling line requires separate filling lines and cleanrooms for vials, prefilled syringes (PFS), and cartridges, leading to higher initial investments, greater operating costs, and reduced flexibility. Therefore, this process requires a significant initial capital investment when installing the filling lines and a larger cleanroom footprint. Additionally, glass-to-glass contact throughout the process increases the costs of non-quality.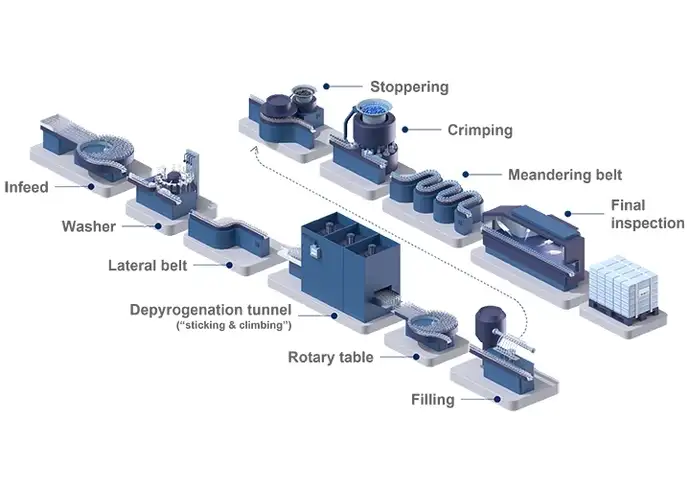 Illustrated example of a traditional bulk filling process for vials.
Reducing TCO through RTU Containers
Although filling traditional containers is associated with lower expenses for primary packaging, RTU filling offers advantages when it comes to recurring operational costs. Unlike traditional containers, sterile, RTU glass vials come washed, depyrogenated, and sterilized, ready for filling operations. Besides the smaller area of cleanroom space required, there are no direct costs for washing and sterilisation, greatly reducing the inputs, such as the energy required for depyrogenation and the need for a WFI system. The higher degree of automation of RTU fillings lines also requires fewer personnel, thus also reducing labour costs.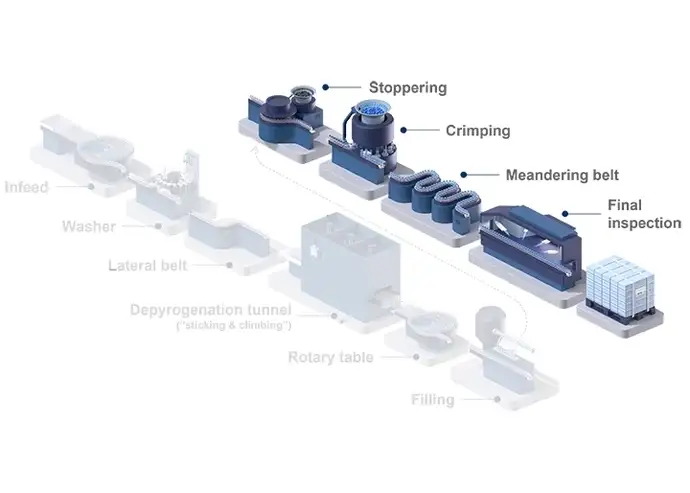 Illustrated example of a sterile filling line process for vials
Furthermore, different container formats can be filled on a single line, minimising capital investment, reducing complexity and greatly increasing flexibility. Switching between different vial formats and types allows the manufacturer to choose the optimum combination of vial, secondary packaging and filling line to suit the product and processes. Additionally, the nest-and-tub configuration prevents glass-to-glass contact and is standardized across different container formats, offering greater flexibility in filling operations.

Embracing sterile RTU glass vials for cost and quality benefits
In conclusion, sterile glass vials such as adaptiQ® from SCHOTT Pharma, part of the SCHOTT iQ® platform, offer numerous cost benefits compared to traditional containers. In addition to the reduced cleanroom space, the cost savings include:
Elimination of direct expenses related to washing and sterilization, resulting in significant savings. This includes reduced energy consumption for depyrogenation and the elimination of the need for a WFI system.
Fewer personnel are required to operate RTU filling lines, leading to decreased labor expenses.
Sterile vials enhance drug stability and minimize the chances of breakage and contamination, reducing the potential costs associated with non-quality issues.
Sterile vials offer the flexibility to fill different container formats on a single filling line, resulting in reduced capital investment requirements.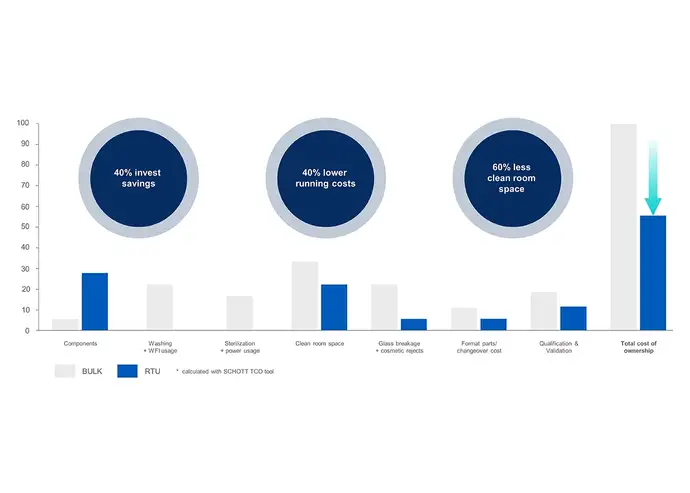 By reducing TCO through capital expenditure and operational cost savings, these vials enable pharmaceutical companies to focus on their core business while maintaining high-quality drug containment and delivery systems.
As the pharmaceutical industry continues to evolve and face increasing challenges, embracing sterile glass vials and their advantages can lead to long-term cost savings, enhanced operational flexibility, and an overall reduction in the total cost of ownership. By switching to sterile and ready-to-use glass vials, companies can remain competitive while maintaining the highest quality standards in their drug products.
If you want to learn more, download our whitepaper
"Improved fill-and-finish processes reduce total cost of ownership"
or contact us.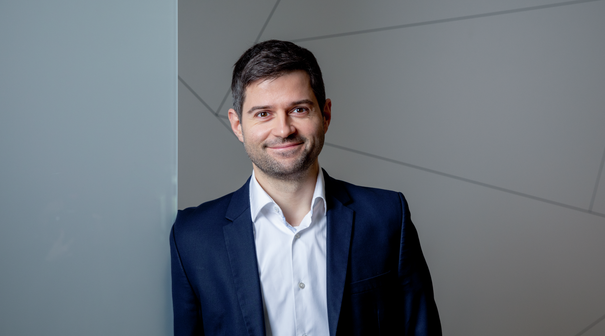 Dr. Robert Lindner
Global Product Manager SCHOTT RTU vials
Register for the latest news
Stay up to date with information about SCHOTT Pharma products and services by registering for our newsletter.