The ideal drug container for sensitive drug formulations
For highly sensitive drugs, leachables from the primary packaging can compromise the stability of the drug product, while adsorption of proteins to the glass surface can result in conformational changes, denaturation, aggregation, and loss of effectiveness.
SCHOTT Type I plus® vials have an ion barrier coating that reduces adsorption and ensures low leachable levels for pharmaceutical products in the neutral and acidic pH range. This reduced drug-container interaction is made possible because of a silicon dioxide coating on the inside surface.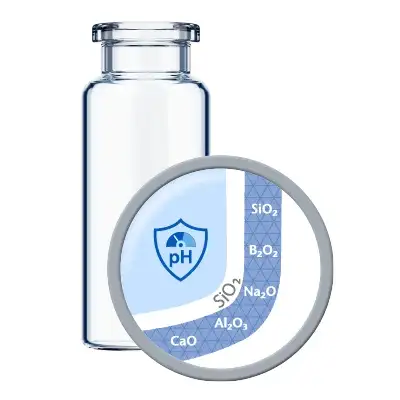 Ideal for storing complex proteins, radiopharmaceuticals, and diluents
SCHOTT Type I plus® vials are suited for a wide range of applications. Due to their low leachable levels, the vials are ideal for storing complex proteins, radiopharmaceuticals, and diluents.
A reduced level of leached aluminum also allow for the storage of drugs that contain amino acids, such as parenteral nutrition.
CONTACT US
Superior drug stability and integrity
SCHOTT Type I plus® vials' silicon dioxide inner coating acts as an ion barrier. This provides stability for sensitive drugs in the acidic and neutral pH range, while the avoidance of pH-shift ensures drug integrity.
Protein adsorption can also be reduced thanks to this specialized inner surface.
CONTACT US
Container material, formats, and packaging options
Made using high quality Type I FIOLAX® Borosilicate Glass.

Formats range from 2-50 R.

Packaging options include bulk tray, as well as pre-washed and pre-sterilized adaptiQ® (tray, cup nest, clip nest)*.

TopLine quality level with an additional dedicated, statistical in-production release test.

*50 R not available in clip nest configuration.
DOWNLOAD DATASHEET
Ready-to-use SCHOTT Type I plus® vials
Small batches of personalized medications and high-value pharmaceuticals often present challenges for fill-and-finish operations. Not only do they require higher quality containers, but they also require more flexibility, with frequent switching between different medications to avoid costly waste.
SCHOTT Type I plus® vials are available in a pre-washed and pre-sterilized ready-to-use (RTU) configuration, and can be processed on a variety of new and existing fill-and-finish lines, keeping vials nested throughout the process (including freeze-drying).