SCHOTT Pharma: Your reliable solution provider for low leachable levels in low-fill drug applications
An increasing number of innovative drugs are filled significantly below the nominal volume of the pharmaceutical glass vial. In these low-fill scenarios, the so-called heel zone has a relatively high impact. The heel zone is a near-bottom area which might potentially show a changed leaching behavior due to an inhomogeneity caused by the standard vial converting process.
The standard hydrolytic resistance test, measuring with 90% of the brimful volume, is in consequence not representative to determine the chemical resistance of the vial for low-fill scenarios.
Leached elements pose a risk for drug formulations susceptible to toxicity
Chemical inertness, excellent barrier properties, high transparency, and mechanical stability make Borosilicate Glass containers the ideal choice for storing injectable drug formulations.
Over a period of time, however, Type I glass can be altered when it comes in contact with the drug formulation.
For some innovative drugs, which are delivered to the patient in small dosages significantly below the nominal storage capacity of the glass vials, the drug container interaction can be more pronounced than for traditional drugs. When the fill volume of the vials is reduced, the contribution of the bottom area to the wetted surface increases, resulting in a higher surface-to-volume ratio. As a result, the amounts of leached elements may rise, which may be problematic for medical items that are susceptible to toxicity.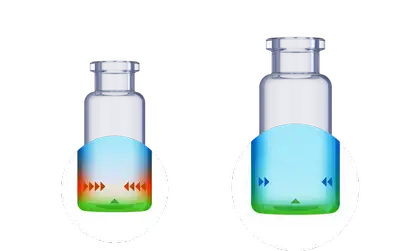 Increased drug stability for low-fill applications with EVERIC® pure
When the injectable drug formulation is low-filled and predictive screening studies confirm that the leachable level might pose an issue, SCHOTT Pharma's EVERIC® pure vials are the ideal choice.
Thanks to a leachable-improved glass tubing (FIOLAX® CHR: glass composition unchanged) and a patented hot-forming technology, the EVERIC® pure vial offers a homogenous inner surface and an improved leachable behavior.
The SCHOTT Quicktest, a dedicated, statistical in-production release test with defined limit values, controls that EVERIC® pure vials meet their specifications with regard to low leachables.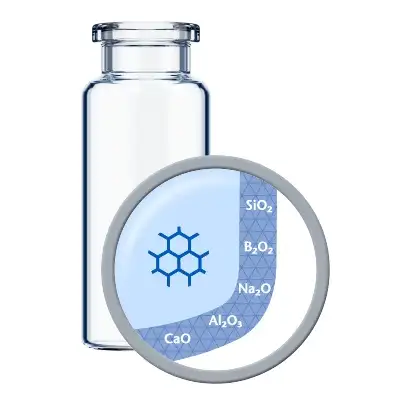 Frequently asked questions about low-fill drug formulation applications
Extractable studies seek to identify the worst-case scenario. Harsh buffers are used under challenging conditions (such as elevated temperatures) to test all materials that a drug will come into contact with to reveal which substances can potentially migrate into the drug.
In contrast, leachables studies focus on the actual application the drug product is intended for, evaluating which substances will migrate into the drug under which storage conditions. Leachables studies are typically a sub-group of the extractables studies.
To meet these demands, SCHOTT Pharma has developed EVERIC® pure for sensitive drugs and drugs with low filling volumes. The new vials ensure drug stability by using an improved Borosilicate Glass tubing – FIOLAX® CHR (controlled hydrolytic resistance) – which has a higher chemical stability without any change in glass composition. Thanks to existing regulatory validation, companies are able to replace conventional tubular Type-I glass vials for existing drugs with EVERIC® pure without costly re-registration.
Register for the latest news